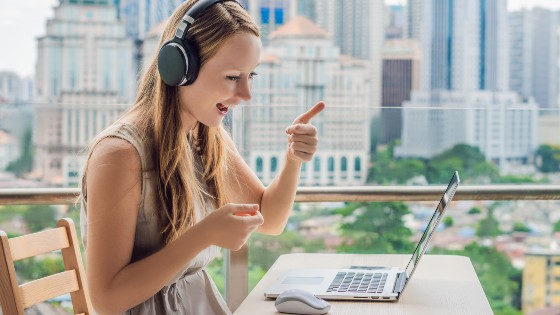 After teaching all day long, most teachers want to go home and rest. But with meager teacher salaries, many teachers take on additional jobs to make ends meet. We normally think of teaching as something that's done within four classroom walls, but technology has expanded the ways in which teachers can work. At the forefront of this expansion are virtual teaching companies that give teachers a chance to tutor students internationally, outside of their regular workday.
VIPKid is perhaps the most well-known of these companies, connecting thousands of American teachers with students in China. VIPKid was founded by Cindy Mi in 2013, when Mi saw that there was a tremendous demand for English language education in China, but not enough native English teachers. She envisioned an online, global classroom that could help meet this demand.
DaDa, another online teaching company, was started in 2013 when Hui Zhi had a similar problem. When looking for an English tutor for her son, Zhi found the traditional tutoring center experience to be lacking. The instruction was not up to par and it was time-consuming to take her son back and forth from lessons. Starting DaDa was a way for Zhi to solve these problems by creating an engaging curriculum that native English speakers could use with Chinese students.
Virtual teaching companies like VIPKid and DaDa are not only improving language instruction for Chinese students, but they are also creating profitable job opportunities for teachers. The timing of working with students in China works well for American teachers, who are able to teach before or after their normal teaching day. When their Chinese students are out of school, American teachers are too. This makes it easy for teachers to take on a few hours of extra teaching from the comfort of their own home or an empty classroom.
Mikell and Nick Brown are a husband-and-wife duo from Nibley, UT who both teach for VIPKid. As parents of two young children, they've turned to VIPKid for extra income and a connection with students in China. After teaching almost two years for VIPKid, they together have taught almost 900 students. Mikell teaches before her kids get up, then spends the rest of her days with them. Nick finds time to teach before and after his full-time job, putting in extra hours with late nights on weekends. With their VIPKid earnings, the family has been able to buy a new car (which they dubbed the "VIPKid Car") and provide consistent supplemental income.
But it's not just about making extra money. For the Browns, the real benefit is seeing their students thrive. "I've seen kids go from being scared to speak English to being totally confident," she says. Beyond increased language skills, Mikell has enjoyed building relationships with kids overseas. "I've learned so much about Chinese culture and have had the opportunity to teach students about American culture."
Many teachers at virtual teaching companies like VIPKid and DaDa are looking for a side hustle or, like Mikell, taking on extra work while staying home with their kids. Because these companies give ready-made curricula and set teachers up with students, teachers don't have to do much but show up and teach. As a VIPKid spokesperson says, "VIPKID teachers love the flexibility of choosing their own hours and working from their home or while traveling. There's no lesson planning or grading, which allows teachers to focus on their passion for teaching children."
The virtual teaching business is booming. Both VIPKid and DaDa were founded in 2013 and have continued to grow since then. VIPKid has more than 500,000 students in China and 63 other countries and 60,000 North American teachers, while Dada currently has more than 100,000 students and 10,000 teachers. Their competitors have grown too: companies like Magic Ears and QKids are also connecting teachers to Chinese children working on learning English.
For teachers, this means that there are increasing opportunities to teach beyond the traditional classroom setting. As Janice Mitchell, a DaDa teacher, says, "Teaching online is a great way to fine-tune your teaching skills, improve your teaching ability and create a positive relationship with awesome Chinese students."
But it's not just about fine-tuning skills: virtual tutoring companies are showing teachers how to expand their impact around the world, all while on a flexible schedule.